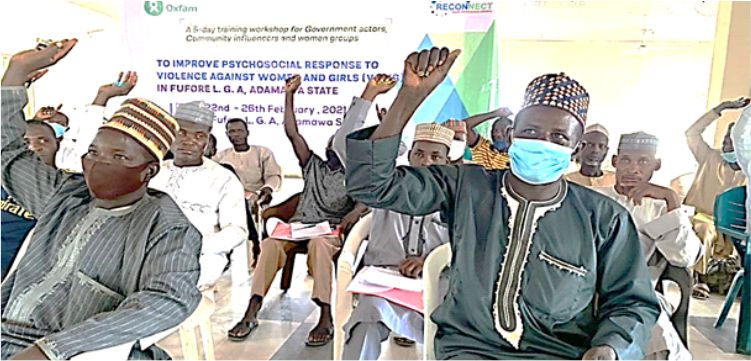 Psychosocial Intervention: A Tele-therapy Service
Start: Dec., 2020
End: March, 2021
Project Summary
The project involved the provision of mental health and psychosocial counselling and support services to vulnerable women and women and girls exposed to violence in FCT, Edo and Lagos State through toll-free telephone lines.
Project Description: Overview
Decreasing the psychological burden of abuse, and improving the mental health status of men, women, boys and girls is key to realizing notable aspects of the sustainable development goals. With COVID-19, violence, abuse of women and children, depression, & anxiety are on the record high. High unemployment, low income, limited education, stressful work conditions, gender discrimination, unhealthy lifestyle, and human rights violations are responsible for the poor socioeconomic among underserved groups.
In synergy with Work in Progress (WIP), the NAIJA ''SIS-TECH'' Empowerment Program provides young women (survivors of gender based violence) access to education and a career in ICT to enable a sustainable future. Thus a comprehensive toll-free gender-sensitive mental health services is required to support target groups to heal, take back control of their bodies, sexuality, lives and achieve future career aspirations.
Highlights of the Project
• 680 beneficiaries were reached through the project – 48% female,; 52% male
• The project reached beneficiaries in 28 locations – 26 States in Nigeria; London and Brazil
• Mental health conditions treated included: sleep disorder, lack of self esteem, relationship problems, marital conflict, loneliness, and stress
• To reach a greater number of beneficiaries, several social media campaigns ran from February through March, 2021 on Twitter, Facebook, Instagram and WhatsApp. The topics focused on GBV and the impact of COVID-19 on mental health
• Clients who needed support in cases of inpatient care were followed up and monitored till they received adequate treatment
Beneficiaries' Testimonials
"It's amazing the job your team is doing to help the women in my community. Thank you" – Rev D (Abuja)
"Sleep used to be an issue for me, I used to feel very restless and overwork. Now I have seen some good changes in my sleep and even thinking pattern after this counseling. Thank you for enlightening me on mental health and its importance. This was helpful" – Mr AA (Taraba)
"I am recognizing more positive feelings and thoughts, and I did not think I will feel any better any time soon. I am also slowly having my usual social life back and my confidence, I am glad this therapy helped." – Miss M (Abuja)
Success Stories
A 21 year old single, female student from Akwa Ibom was referred by a colleague for project's toll-free counseling service in January so she could benefit from the sponsored program as she was not financially buoyant to afford the services of a psychologist. At first, she had spoken about having relationship problems, academic problems and family issues in which she was counseled about and then in further sessions, she had opened up on others issues from her past. Abused when she was less than 5 years of age by her cousin and subsequently by other people, born normally without any birth defect, became a sickly child and had had series of health problem and was recently operated upon. Born into a dysfunctional family and grew up in toxic and chaotic environment, from a family of 5, her mom and 4 siblings all from different fathers and had to raised by several people throughout her growing up thus exposing her to all forms of abuse and maltreatment leading her to developing series of psychological and health problems like trauma, social withdrawal, self-esteem problems, depression and had contemplated suicide at some point. She is left with thoughts on how to figure out life alone. She is currently going through some therapies to correct the character defect these events have left on her person
Mr. Z called; he sounded low, confused and complained about what to do and how bad life has been treating him. He is a 26 years old Tiler. He complained the chemical affects his hands and wants to quit his job. He is the first son and child and feels the need to provide for everyone because his father suffered stroke and his mother doesn't have any source of income. He feels with the way life is going he may just end it. After the session using Motivational therapy, Goal setting and Decision Making, he mentioned his spirit was lifted. He sees clearly what he needs to do and would continue to push himself until he gets to his dream of being a Artist. Starting from planning on how to acquire skills on sound engineering, he was happier and thanked us for offering this service to him.
Images from the Project
Kindly see below Picture excerpts from the first leg of the project in Adamawa: